News
Subscribe to posts
Two new honours students for 2019 have joined the Creek Lab on exciting projects. Yasmina Abdallah and Nathaniel Pywell will be working on projects exploring novel antimalarial modes of action and the biology of the malaria parasite infected red blood cell. We welcome Yasmina and Nathaniel into the group and look forward to seeing their ground breaking research work over the next few months!   
The Creek lab currently has an opportunity for a new post-doc to join the lab. The new position requires a post-doc with parasitology experience to study the mechanism of action of OZ antimalarials using metabolomics and chemical proteomics techniques. Interested persons should apply at:
The Creek lab brought home the daily double at the 2016 MIPS HDR symposium with Anna Sexton winning first prize for her oral presentation and Katherine Ellis winning first prize for the posters. A fantastic effort on a day that demonstrated so much high quality science being done at MIPS.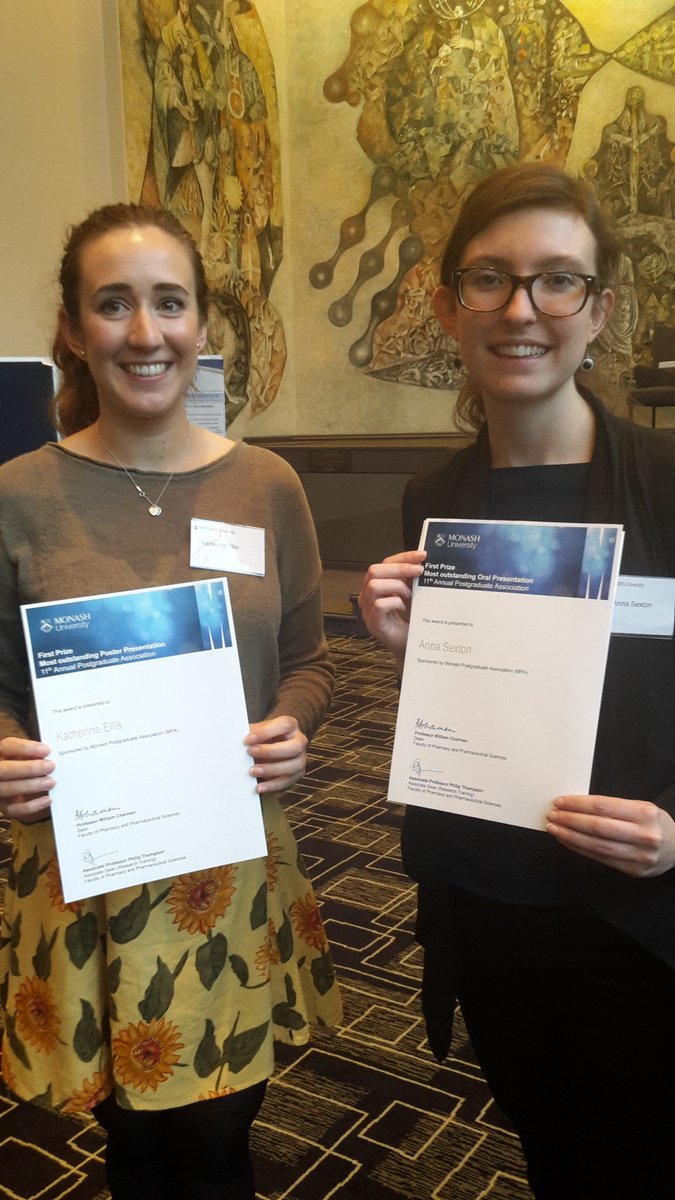 Congratulations to Anna Sexton for receiving the runner-up prize at the MIPS 3-minute thesis competition. Anna recently represented MIPS at the Monash-wide event in Clayton, and gave a captivating 3-minute presentation explaining how her PhD work will find out how malaria parasites 'talk to' uninfected red blood cells and cause disease. Well-done also to our close collaborator, Shaz Sivanesan from the FADDI lab, who won the audience-choice award at both the MIPS and Monash events.
Double congratulations to Ghizal. Last week she won a highly competitive poster prize at the Molecular Approaches to Malaria (MAM) conference for her work applying proteomics, peptidomics and metabolomics to understand the mechanisms of artemisinin resistance.  To top it off, this week she received official news that her PhD has passed and been ratified by the faculty.  Well done Doctor!
2015 was another successful year for NHMRC project grants, with 2 projects awarded funding in a highly competitive round. Funding was awarded for investigation of the mechanism of action of the novel triazine antimalarials, through a Project Grant led by Jonathan Baell (MIPS) in collaboration with the Avery (Griffith), Edstein (AAMI) and Ralph (Unimelb) labs. The other grant was led by Natalie Trevaskis (MIPS), which will use metabolomics approaches to investigate lymph-adipose interactions. We will also participate in another successful project grant led by Mike Inouye (Unimelb), using systems biology approaches to understand host-pathogen interactions involved in Typhoid disease. 
Congratulations to Amanda on completing her Honours year.
Amanda completed a joint project between the Creek and Sloan labs, investigating the impact of beta-adrenergic signalling on cancer cell metabolism. In this challenging project Amanda successfully established protocols for Breast cancer cell metabolomics and identified several important changes in central carbon, nucleotide and amino acid metabolism that may be involved in cancer metastasis. 
Dr Creek was recently promoted to Senior Research Fellow (Senior Lecturer) by the Faculty of Pharmacy and Pharmaceutical Sciences, Monash University. 
Darren's promotion comes within two years of joining the faculty and recognises the rapid establishment of this new lab, recent funding success and continued track record of high quality publications, in addition to contributions to teaching and service to the faculty and the international metabolomics community. 
This is a testament to all members of the lab and to the many collaborators that are essential to the ongoing success of this research. 
The lab welcomed two new post-docs to the group in August/September. 
Ghizal Siddiqui joins us from the Microbiology department of Monash University where she recently completed her PhD with Brian Cooke, investigating protein kinases in Plasmodium falciparum. Ghizal will implement proteomics techniques in our lab to add an extra layer of information to ongoing metabolomics investigations of drug action and metabolic regulation in protozoan pathogens.
Anubhav Srivastava comes to Melbourne from the Wellcome Centre for Molecular Parasitology at Glasgow University. Anubhav recently completed his PhD with Andy Waters, using metabolomics and molecular approaches to investigate metabolism in several stages of Plasmodium berghei. Anubhav will initiate the T. brucei culture in our lab and lead the metabolism and drug discovery projects for trypanosomatids. 
A fantastic effort by Daniel Stoessel who has completed his Masters degree with an exceptional grade. Daniel completed two challenging projects in the lab looking at drug action in trypanosomes and developing novel metabolomics methods. 
We wish Daniel further success as he embarks on his PhD studies with the metabolomics company Metabolomic Discoveries in Germany.